ART - SOUL: Hamptons Brings Culture to the Hamptons - Live Music Performances By Kenny Lattimore, ESNAVI
New York City, New York Aug 9, 2022 (Issuewire.com) - On July 22-24, 2022 the Hamptons experienced a soulful weekend attended by artists, art curators, art collectors, entrepreneurs, business professionals, philanthropists, media, and the cultural elite from the Hamptons and throughout Long Island, for a very festive and fun-filled weekend. ART & SOUL: Hamptons was created by Yaya Reyes to celebrate influential and emerging Black, Indigenous, and Artists of Color living in the Hamptons community and beyond.
DAY 1: The weekend kicked off with a private VIP pre-mixer at The Hamlet Inn, where VIPs met up and sipped on bubbly. The opening reception was hosted by the Southampton African American Museum and took place in collaboration with the Southampton Arts Center a hub that is helping to strengthen arts and culture for the entire community. A special film screening of 'The Inventor" was presented by film director Philip Musey. Light bites were catered by Hiatus Hospitality and The Party Perfectionists (both owned by Caterer Deana Smith of the Shinnecock Indian Nation). A crisp and refreshing rosé was sponsored by Maison Marcel (DJ D-NICE is a prominent investor), and whiskey cocktails were sponsored by Skrewball Peanut Butter Whiskey.
DAY 2: This weekend event encouraged tourism in the Hamptons that supports and connects with artists. The experience included an art walk where guests were welcomed to view the artists in residency: John Pinderhughes (SAAM), various artists in the TECHSPRESSIONINSM - Digital & Beyond exhibition (Southampton Arts Center), and Tanya Willock and Temidra Willock-Morsch (Hidden Gem NY home decor and lifestyle boutique).
Brown Skin Brunchin' partnered with BRONZE Magazine for ART & SOUL: Hamptons weekend to host a sold-out VIP Brunch at 75 MAIN. Some of the Hamptons' and NY's socially connected Black and Brown women were in attendance, along with featured SOUL LIVE performers GRAMMY-Nominated R&B/Soul singer-songwriter Kenny Lattimore and TOP 40 R&B/Soul singer-songwriter ESNAVI.
More On showupnews :-
VIPs attended the Polo Match & Cocktail Party in true Hamptons style, with reserved VIP Cabanas, next to supermodel Christie Brinkley. The polo event presented by Social Life Magazine is quite the event of the summer with over 1K guests in attendance.
The highlight of the day was the VIP SOUL LIVE EXPERIENCE hosted by Kevin Thompson - the Entertainer, with live music performances by GRAMMY-Nominated Singer/Songwriter KENNY LATTIMORE, TOP 40 R&B/Soul Singer/Songwriter ESNAVI, a special poem by museum founder Brenda Simmons (SAAM), and special tunes by DJ International Vybz Empress. Soul food catered by 1804 Fyete, bridal cocktail bar sponsored by SIGNATURE BRIDE Magazine, and luxurious edible bouquet towers sponsored by WOW Bouquet. Artwork created by Nakazzi Tafari, a Jamaican-born artist with roots in Barbados, London, DC and New York.
DAY 3: Jeremy Dennis hosted a private tour of Ma's House & BIPOC Art Studio located on the Shinnecock Indian Reservation. Guests had the opportunity to learn about the history, culture, and contributions to the Hamptons by the Native American Shinnecock Tribe.
The weekend wrapped up with a culinary tasting experience presented by the Black Culinary Expo where various accomplished celebrity chefs served soulful cuisine: Chef Stephan Durand (yellow grits w/etouffee of legumes and shrimp), Chef Marc Anthony Bynum (grilled watermelon salad and banana pudding), Chef Timothy Walker (buffalo chicken, mac & cheese, sweet potato cobbler w/almond crumbler), Chef Fresh (carrot cake cookies, peach cobbler, banana pudding), and Chef Sandy Pierre (spicy shrimp, black wild mushroom rice). Sommelier Coviello Salinès educated guests about wine and personally served some favorites from his collection: Amour Blue Wine, Peramo Champagne, Italian Lambrusco, Peach Moscato D'Asti, and a 2015 South African Pinotage, while other guests enjoyed crafted cocktails created by The Party Perfectionists, which all took place at the Hamptons Hiatus, located in the Hamlet Green in Hampton Bays. In conjunction with the culinary expo, an Outdoor Art Exhibition took over the Hamlet Green lawn with featured artwork by Danielle Leggard, Sage Gallon, Tatiana EL-Khouri, Kervin Andre, and Odile Jacottarte, and Andrew F. Scott. Road to Artdom hosted a live mural painting which was a fun activity for the community to express their creativity and connect with artists.
You cannot have an event for VIPs without goodies to make them feel welcomed. VIPs received sponsored luxury gift bags filled with swag, curated just for them. Here is what was inside some of the gift bags: Ocean's Promise sea moss gummies, BYROE facial serum, Skrewball Peanut Butter Whiskey, TRENDZIO knot bracelets, Spa Sciences professional beauty tools, Pink Mahoghany perfume vials, DAX For Naturals curling hair cream and protein hair treatment, We Are Fluide liquid lipstick and universal lip balm, DIVINE chocolate, LaJeanell organic vegan makeup, Dolce & Lay bath & body oil, JJL Candle Co. scented candles, Mr. Tortilla salsa and tortilla chips, Three Commas Colombian organic coffee, EmBeba dry skin rescue balm, Kyvan Body Essentials lip balm, Halfpenny Postage greeting cards, SANG Vietnamese coffee, SOVANY flavored sparkling water, Nature's Garden trail mix snacks, Minor Figures dairy-free coffee, and Uplift Foods pre-biotic snack bars.
EVENT AND COMMUNITY PARTNERS
SOUTHAMPTON AFRICAN AMERICAN MUSEUM was founded and created by Brenda Simmons to promote an understanding and appreciation of African American culture by creating programs that will preserve the past, encourage learning, and enhance the life of the community.  
SOUTHAMPTON ARTS CENTER provides a dynamic venue to present the highest quality programming to the entire community through partnerships with a diverse slate of world-class artists, performers, educators, and cultural institutions.
MA'S HOUSE & BIPOC ART STUDIO is a project that serves as a communal art space based on the Shinnecock Indian Reservation in Southampton, NY. The family house, built in the 1960s, features a residency program for Black, Indigenous, and People of Color (BIPOC), an art studio, and a library, along with hosting an array of art and history-based programs for tribe members and the broader local community.
HIATUS HOSPITALITY was created by Caterers Deana and Batya Smith; providing party and event oncierge services throughout the Hamptons, the rest of Long Island, and the Tri-State area. Hamptons Hiatus (members-only social club and venue space), The Experience Exhibition (a series of curated social events), The Party Perfectionists (exemplary and refined event staffing for homes and event spaces in the Hamptons), and Poppin Patties (delicious signature bites for social functions and daily consumption) are encompassed under one creative entity.    
BLACK CULINARY EXPO is a culinary experience highlighting Black-owned restaurants, caterers, and chefs. The platform hosts an annual experience that highlights Black Culinarians, while providing visibility to entrepreneurs within the industry, including wine and spirits. Through a series of pop-up dinners, expositions, and celebrations, Black Culinary Expo highlights Black excellence within the food and wine industry.
ART & SOUL: HAMPTONS is designed to highlight art created by influential and emerging Black, Indigenous, and Artists of Color living in the Hamptons and beyond. ART & SOUL: Hamptons is led by Founder Yaya Reyes, Rhonda Ridley of Affinity PR, Tanya Pessoa, Black Women in Media, Black Culinary Expo, Michelle Mitchell of Brown Skin Brunchin', with key support from the Southampton African American Museum, Southampton Arts Center, Mas House & BIPOC Art Studio, Hiatus Hospitality, EBX Studios, 1804 Fyete, Hidden Gem NY, hotel sponsor The Hamlet Inn, the Hamlet Green, BRONZE Magazine, SIGNATURE BRIDE Magazine, the Hamptons Mouthpiece, East End Taste, New York Style Guide, Le Car Co., Road To Artdom, ART LUXE Gallery, Lana Walker, Alexandra Spirer, and Marianne Morrison. Please visit artsoulhamptonsweekend2022.splashthat.com for more details. For Partnership and Sponsorship opportunities, please contact Yaya Reyes, creator of ART & SOUL: Hamptons at [email protected].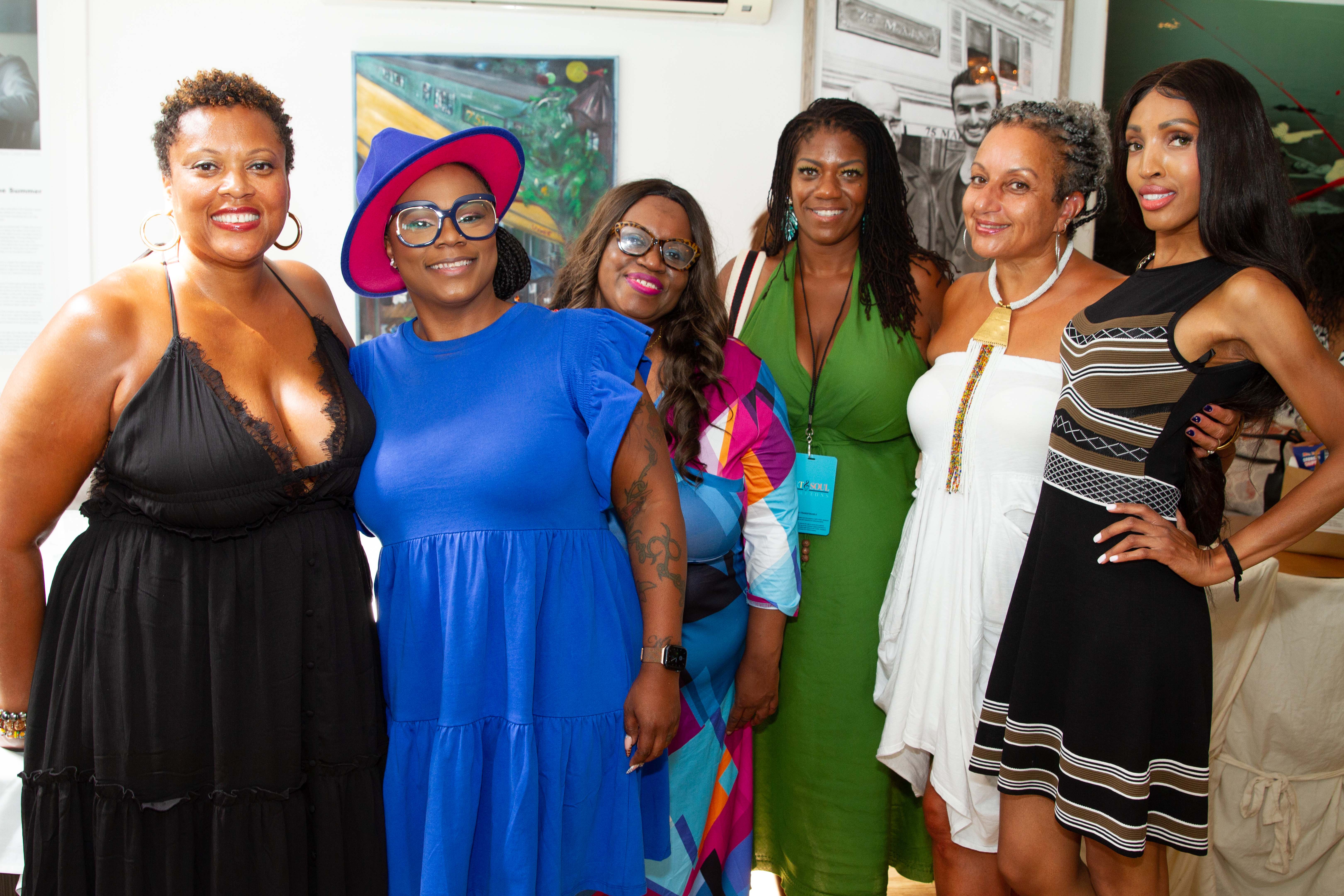 Media Contact
Rhonda Ridley, Affinity PR
Source :ART & SOUL: Hamptons

This article was originally published by IssueWire. Read the original article here.
You May Like