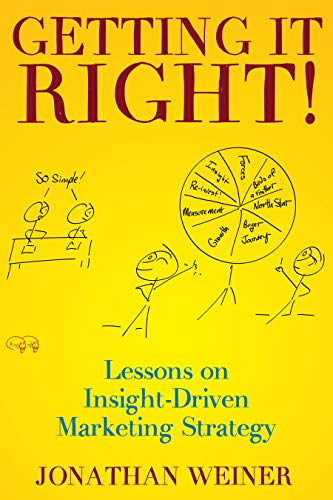 New Author Provides Insight Driven Lessons On Customer First Marketing Strategy
Berkeley, California Dec 10, 2020 (Issuewire.com) - In his book, Getting it Right! Lessons on Insight-Driven Marketing Strategy, Jonathan R. Weiner takes us on his personal journey and teaches us how to integrate powerful customer insights to create a successful marketing strategy.
With a blend of real-world experience and knowledge, Getting It Right! Provides comprehensive, accessible, and practical guidance towards building marketing strategy -- with a focus on putting the customer first. The content in the book talks about trends, targeting, branding, integrated marketing, and more.
For more than 35 years, Jonathan Weiner has worked with some of the largest brands in the world like Apple, Google, Pepsi, AT&T, and Levi Strauss. In his career as a marketing leader, he has always used data and insights to bring the customer voice to the boardroom.
An Amazon #1 new release and best seller. This is a valuable addition to any marketer's library.
More On showupnews :-
Look at what some people have to say about Jonathan Weiners Getting it Right!:
Weiner successfully weaves in wit, wisdom, and decades of experience to create a go-to book for marketers, market researchers, and, indeed, anyone in marketing trying to get it right.David Morse, CEO of New American Dimensions
 "A comprehensive view of marketing strategy with the customer front and center. As it should be. Thats getting it right.. Kathy Oneto, Founder and CEO of The Agency Oneto
If you are interested, you can check out his book right here: https://www.amazon.com/gp/product/B08DQW24NQ/
Media Contact
Jonathan Weiner
Berkeley, CA
Source :JW Consulting

This article was originally published by IssueWire. Read the original article here.
You May Like